When it comes to luxury living in Los Angeles, most people usually think about estates in gated communities, elegant waterfront homes with picture-perfect views, and gigantic mansions filled with every type of high-end feature imaginable.
While these types of properties are what often come to mind, there's another facet of luxury LA real estate that many people might be unfamiliar with: high-rise condo living. Although it may be considered a relatively new concept in LA, the high-rise luxury lifestyle is quickly becoming one of the city's fastest growing sectors in recent years. Luxury condos in LA offer unparalleled living, with stunning panoramic views, the finest features and amenities, and easy access to all of the world-class destinations and attractions the city has to offer.
If you're ready to begin your search for your dream Los Angeles luxury condo, we'll give you an insider's scoop on the type of amenities available, the buying process, featured condo properties, and more.
What's it like living in a luxury condo in LA?
Incredible first-class amenities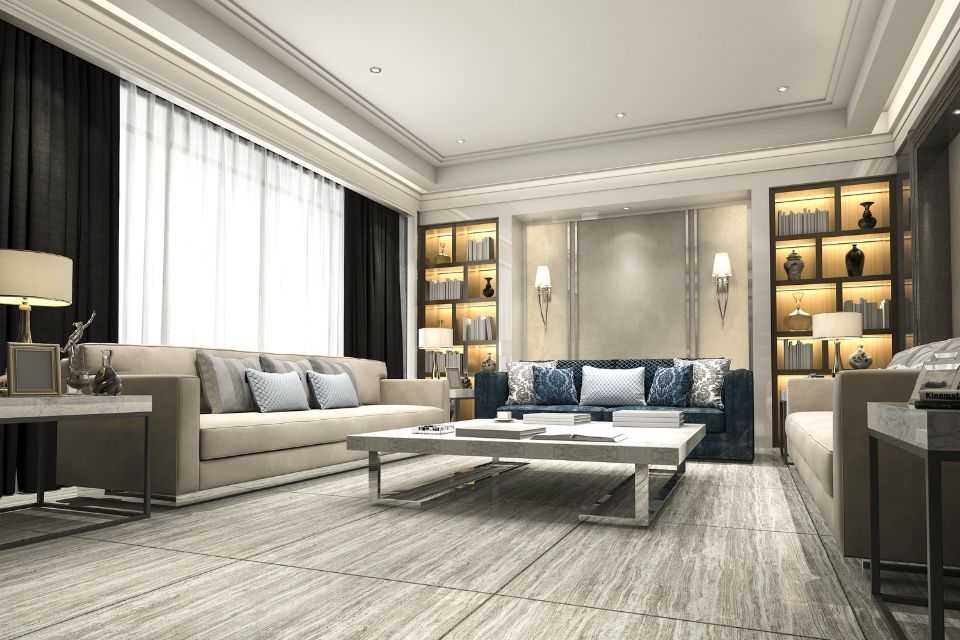 For condo buyers, LA's diverse array of locations is just one part of the equation. It's the luxurious properties themselves that take high-rise living to the next level. Whether you're looking for a condo that offers panoramic skyline views, the finest luxury amenities, easy access to some of LA's hottest destinations, or a little bit of all of those combined, the high-rise luxury condo developments you can find in the city are sure to exceed your expectations.
Most luxury high-rise condos in LA come with a range of high-end amenities such as gyms with state-of-the-art equipment, resort-style swimming pools, rooftop lounges, pet facilities, and so on. Some of the condos however, take these amenities to a whole new level, allowing residents to enjoy a luxurious lifestyle unlike any other.
Here are a few examples of incredible amenities you can find in many luxury high-rise LA condo developments:
Rooftop recreation features – Most luxury high-rise condos in LA make good use of the rooftop by using it for common areas such as a rooftop lounge, skydeck, terrace, or garden, serving as an ultimate urban sanctuary highlighted by gorgeous 360-degree views. You'll find rooftop decks equipped with a variety of features such as swimming pools, cabanas, fire pits, dining spaces with banquet seating and more. Some buildings also have multiple rooftop facilities that can be reserved for private events.
Wellness facilities – Amenities that support a healthy lifestyle are often at the top of the list for many luxury condo buyers. Indeed, one of the biggest benefits you can enjoy when you own a condo instead of a house is the added convenience – you won't need to pay for a separate gym membership or head to another place away from home to enjoy a healthy lifestyle. Examples of wellness amenities you can find in luxury high-rise condos include fitness rooms, basketball/racquetball courts, saunas, hot tubs, and yoga and other fitness classes for residents. Some condos even offer spa services including facials, massages, nail care, and more.
Coworking areas – Luxury LA condos elevate the work from home setup for residents with a dedicated coworking space equipped with features like comfortable desks and chairs, high-speed internet, kitchenettes, and dining areas, making it an ideal place to work, relax, and socialize.
Movie theaters – Residents can enjoy movie nights at their condo's fully-appointed movie theater, which can also be rented for private events.
Family-friendly features – Condo amenities designed for younger residents are highly attractive features for buyers with children. Many luxury condos offer family-friendly amenities such as onsite daycare facilities and play areas with all sorts of interactive games for kids. There are even some condo communities that host events for kids, such as music classes and storytelling sessions.
Pet facilities – Fancy amenities aren't only for homeowners – some luxury high-rise condos are equipped with amenities for pets as well! Many condo communities go above and beyond for residents and their pets by offering amenities such as pet spas, onsite pet parks, pet sitting and walking services, and more.
Community events – High-rise condo communities equipped with modern luxury amenities also open up great opportunities for residents to interact with other members of the community. Many high-rise condos have a diverse social calendar, as well as clubs focusing on a wide range of hobbies such as books, board/card games, fitness, and more.
Easy access to nearby destinations – While some luxury high-rise condos have onsite shops, services, and restaurants, many are also situated in prime locations that provide convenient access to shopping centers, fine dining restaurants, entertainment venues, and the best attractions the city has to offer.
LA's central location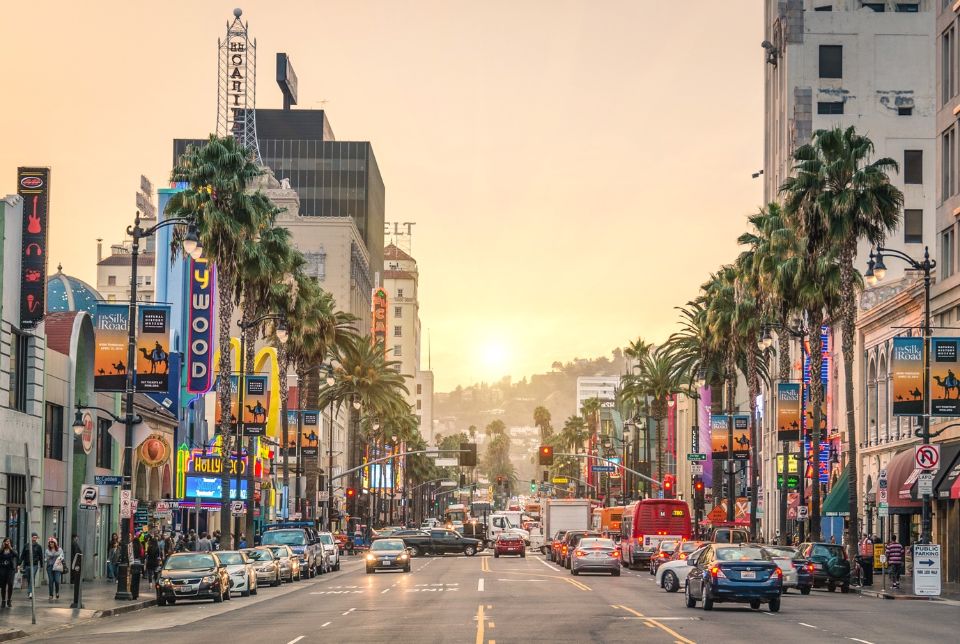 One of the best parts about searching for the perfect high-rise luxury condo in Los Angeles is the variety of incredible locations to choose from, each with its own unique character and selection of nearby attractions and destinations.
From the iconic Beverly Hills to the breathtaking beaches of Malibu, the vibrant streets of West Hollywood to the scenic laidback charm of Brentwood, there's simply no other place in the world that can match LA's sheer amount of options when it comes to location.
Living in the City of Angels places you on the doorstep of culture, diversity, and opportunity. No matter which part of the city you choose to live, you'll always be minutes away from exciting activities to enjoy and interesting places to visit.
Here's a quick look at what you can look forward to when you're living in LA:
Exceptional dining
LA is home to an amazing food scene unlike any other in the world. Whether you're in the mood for French-style brunch in an upscale bistro or a taco bursting with flavor straight out of a food truck, LA's incredible culinary offerings are sure to satisfy your taste buds.
Here are just a few of the many top-rated LA restaurants you should check out:
Mizlala – 4515 Sepulveda Blvd., Sherman Oaks, CA 91403
The Oyster Gourmet – Central Market, 317 S. Broadway, Los Angeles, CA 90013
Nozawa Bar – 212 North Cañon Drive, Beverly Hills, CA 90210
The Apple Pan – 10801 West Pico Boulevard, , CA 90064
Felix – 1023 Abbot Kinney Boulevard, , CA 90291
Terrific outdoor recreation
LA's pleasant sunny weather makes it perfect for spending time outdoors and exploring its many picturesque natural destinations, no matter what time of year. Below are some of the best outdoor activities and destinations you'll be able to enjoy when you're living in LA:
The beaches – With gorgeous sunny days year-round and miles of pristine coastline stretching from Malibu to the South Bay, LA residents can sink their toes in the sand, enjoy fun watersports, and admire the picture-perfect ocean views throughout the year.
Hiking – Among LA's most popular hiking destinations is Griffith Park, one of the largest urban parks in the US, encompassing more than 4,300 acres (that's more than five times the size of New York's Central Park!). What's great about hiking in Griffith Park is its variety of trails. Visitors can hike up to the highest point, Cahuenga Park, to take in sweeping views of LA, trek up to Mount Hollywood, or enjoy a relaxing stroll along Fern Dell. You'll be able to check out some interesting attractions along the way as well, such as Griffith Observatory and Autry Museum.
Al fresco dining experiences – In case you're in the mood for something more relaxing, many restaurants, cafes, and cocktail bars in LA are designed to take advantage of the city's incredible weather and captivating views. From the rooftop lounges of Downtown LA and Santa Monica to the beachside cabanas scattered around Malibu and Venice, there's no shortage of venues where you can relax, enjoy dinner and drinks with some friends, and take in breathtaking views of the city.
World-class nightlife, entertainment, and cultural destinations
LA boasts a near-endless assortment of nightlife and entertainment options. After all, it is the center of the country's entertainment industry, so there's always something to look forward to on any given night.
From spectacular concerts and live performances to the hottest pro sports teams, stand-up comedy acts to the biggest international conventions – it's all right here in LA.
The city is also home to a myriad of world-class arts and culture destinations as well. In addition to its collection of art galleries and museums in Downtown LA and Hollywood, art can be found almost everywhere in LA, from gigantic murals plastered along the side of buildings to impressive installations throughout parks. In the past several years, many national and international galleries have also established outposts throughout the city, while renowned mega-collectors have opened venues to showcase their collections, shining the spotlight on LA as a must-visit destination for art lovers.
Guide to buying a Los Angeles luxury condo
For prospective buyers, searching for the perfect Los Angeles luxury condo can be a bit challenging, as there's such a wide range of high-end developments available throughout the city. Additionally, buyers also need to choose a home suited for the type of lifestyle they'd like to have, all in a competitive real estate market.
In this section, we give you a closer look at some of the steps involved, along with a few helpful tips on purchasing a condo in Los Angeles.
Work with an experienced realtor who specializes in luxury condos – The most sought-after luxury high-rise condos often have buyers competing to outbid each other, placing offers that are well-above the asking price. Making an enticing and well-informed offer requires comprehensive knowledge of prices and local market trends, so you want to work with a Los Angeles agent who will be able to provide you with local expertise.

Navigating the ins and outs of purchasing a luxury condo can be a real challenge, especially for those who haven't been through the process before. Working with an agent will help you find the right luxury condos within your price range, arrange showings, and assist you as you make your way through the process of negotiating with sellers, agreeing on terms and conditions of the sale, and so on.

Get preapproved – Buyers who are serious about their decision to buy a condo in LA should get preapproved for a mortgage. Getting preapproved will show condo sellers that you're serious about purchasing their property. Ask your realtor to connect you with a mortgage provider, but do your own research as well to see which ones offer the best interest rates.
Gather information on HOA finances – Getting information on the finances of the homeowner's association of a condo you're interested in is an important step, as you want to know whether a HOA is capable of covering standard maintenance, upkeep, and emergency repairs. Request to see records of the HOA's financial statements to get information on the type of maintenance and upkeep tasks performed within the past several years.
Negotiating with sellers – Once you've submitted an offer, the seller will decide whether to accept or hold firm on their asking price. In case he or she makes a counteroffer, your agent will then negotiate on your behalf, using their experience and local expertise of the market to support your offer.
Managing seller disclosures – If your offer is accepted by the seller, both parties will now be under contact. Depending on instructions and guidelines on the contract, the buyer will then wire a deposit into an escrow account. Buyers, sellers, and their agents will then need to meet the requirements established in the contract's terms and conditions.
For more helpful tips on purchasing a home in Los Angeles, take a look at our buyer's guide.
Featured Los Angeles luxury condos
Los Angeles luxury condos offer a seamless balance between style, comfort, and convenience, providing an unparalleled lifestyle for residents. In this section, we give you a peek at some of the best luxury condos you can find in the city.
The Residences at 8899 Beverly
The Residences at 8899 Beverly is the result of a decade-long pursuit to transform an iconic example of mid-century modern architecture into one of the most luxurious residential developments in all of Los Angeles. As the tallest and only residential building in the heart of the vibrant Beverly-Melrose-Robertson Arts and Design District, 8899 Beverly is an impressive masterpiece designed by Olson Kundig, one of the most acclaimed architectural firms today.
Pendry Residences
Pendry Residences redefines modern luxury through exceptional design and a seamless balance between privacy and the impeccable services provided by Montage Hotels & Resorts. Nestled in the heart of West Hollywood, Pendry West Hollywood and Pendry Residences West Hollywood features stylish interiors designed by the prestigious Martin Brudnizki Design Studio along with complete access to hotel services and amenities.
Sierra Towers
Built in 1965 by award-winning mid-century architect Jack Charney, Sierra Towers offers exceptional high-rise living with its combination of history, masterful architecture, and location minutes away from all of the incredible attractions and destinations in the Westside. Residences at Sierra Towers feature spacious light-filled interiors with designer fixtures and access to full service amenities including a state-of-the-art fitness gym and outdoor swimming pool.
Four Seasons Residences
Four Seasons Residences offers unrivaled luxury for homeowners through legendary Four Seasons service, the finest amenities, and a seamless ownership experience in the heart of upmarket Beverly Hills. Units at the magnificent 12-story tower feature custom Martyn Lawrence Bullard-designed open-concept interiors that take full advantage of year-round natural light, along with professional-grade kitchens fully equipped with built-in cabinetry and integrated appliances from the world's preeminent brands.
Beverly West Residences
Beverly West Residences is an ultra-luxurious 22-story boutique high-rise with design schemes showcasing home collections of Christian Liagre, David Sutherland, Ralph Lauren, and James Perse, all of which express a casual approach to elegance and sophistication. The luxury condo development comprises only 35 units, and is situated adjacent to the Los Angeles Country Club.
The Century
Located in Century City, The Century is a 42-story, 140-unit masterpiece designed by the renowned New York architect Robert A.M. Stern, winner of the 2011 Driehaus Prize. Nestled on an expansive four-acre site, the luxury high-rise condo is highlighted by breathtaking views of the Pacific Ocean, the Santa Monica Mountains, and Downtown LA.
The West Hollywood EDITION
Located on Sunset Boulevard, The West Hollywood EDITION is a luxury boutique hotel designed by award-winning architect John Pawson. Private units are situated above the hotel, providing panoramic views of the LA skyline, along with access to world-class hotel amenities including gourmet dining, a fitness room, screening room, an exclusive nightclub, and a rooftop swimming pool and spa.
The Ritz-Carlton Residences at LA Live
Nestled in the heart of the vibrant LA Live entertainment district, the Ritz-Carlton Residences feature sweeping views, legendary 24-hour Ritz-Carlton room service, and access to luxurious high-end hotel and residential amenities, including a heated rooftop swimming pool, a resident-only fitness center, and a dedicated concierge.
Century Plaza
Flanked by the historic Fairmont Century Plaza Hotel, the reimagined Century Plaza features an enticing array of world-class entertainment, leisure, and culinary destinations, providing residents with a relaxing and enjoyable lifestyle like no other. Homeowners get access to a range of incredible amenities, including an onsite American brasserie and rooftop bar, lush hidden gardens, and all of the first-class services and amenities offered by the Fairmont Century Plaza Hotel.
Wilshire House
One of the most prestigious condo developments in the Wilshire Corridor, Wilshire House is conveniently located close to all of the vibrant shopping centers, top-rated restaurants, and entertainment destinations of Beverly Hills, Century City, and Westwood. The full-service building features amenities which include an expansive sundeck and a swimming pool. It's also one of the only high-rise residential properties in the area equipped with a full-sized tennis court.
Above Sunset Realtors has the key to the hottest condos in Los Angeles
Ready to begin your search for the perfect Los Angeles luxury condo? Whether you're
looking forward to luxurious high-rise living or searching for an investment property to add to your portfolio, our dedicated team of real estate agents from Above Sunset Realtors will be there to make sure you find a luxury condo that matches all of your needs and preferences.
At the helm of Above Sunset Realtors is Ben Kazemi, a top-producing luxury broker who possesses unparalleled expertise in understanding, managing, and developing luxury residences. Clients can count on Ben's years of high-level experience working with numerous luxury property brands to give them an edge in LA's competitive market, allowing them to fulfill their real estate goals in the most efficient, stress-free way possible.
Ben takes pride in his unmatched ability to position clients for success, and is always ready to go above and beyond to make sure they achieve their objectives.
Get in touch with Ben Kazemi and the Above Sunset Realtors team today by calling 310.991.3112, or send an email to ben(at)abovesunsetrealtors(dotted)com